MICRO - 13" dia. $
160.00 -
(see BuyItNow tab at bottom of page)
INCLUDES FREE SHIPPING to Lower 48 States.

Capacity of 180 Spools & 90 Bobbins

Overall Dimensions: 13" diameter x 24" tall and weighs about 20 lbs.

This is the newest version that I call the Micro. It's small and compact for those who do not need a vast amount of storage and limited counter space. Each shelf holds 30 spools of thread, and storage for 90 bobbins. The slots remain the same as with the Mini and Large Carousel for easy access of the lower stored thread, simply aligned slots on the upper shelves so they are over the stored spool you wish to retreive and then reach in. Use the same process to store your thread.

This is a smallest version of the original Thread Carousel at a smaller price. It also features a removable bobbin storage carousel that holds up to 90 bobbins. It is designed to sit on top of the center post and can rotate for easy access. It also lifts off for easy access and can be placed near your work area.
Each shelf measures 13" OD diameter, 8" smaller than the original MAXI (large), and holds 30 spools per shelf, for a total capacity of 180 spools. So it has vast smaller footprint than the MAXI, and 4" smaller than the MINI. Great for those who do not need alot of storage, and have a smaller work area. All of the other spacings for storage are identical as the larger version which have the spacing between dowel spindles 2.0" inches, with a clearance height of 3-1/8". The photos show the MICRO loaded with mini spools (550m). These spools measure approx 1-3/4" base, with a height of 2-1/4". The spacing of 2.0 inches on the dowel pins will allow for any spool with a base of 2.0" inches or less, and maximum height of 3" tall. The height of 3" allows for a 1/8" clearance so the shelves spin easily.
The shelves are made of 1/4" MDF material, and the base is made from solid wood, with 1/2" steel center support rod with 3" spacers between each shelf. The top 5 shelves have a 3" inch wide access slot for reaching in to retrieve and re-position the spools. Each of the upper 5 shelves have 4 steel pin counterweights to counterbalance the access slots.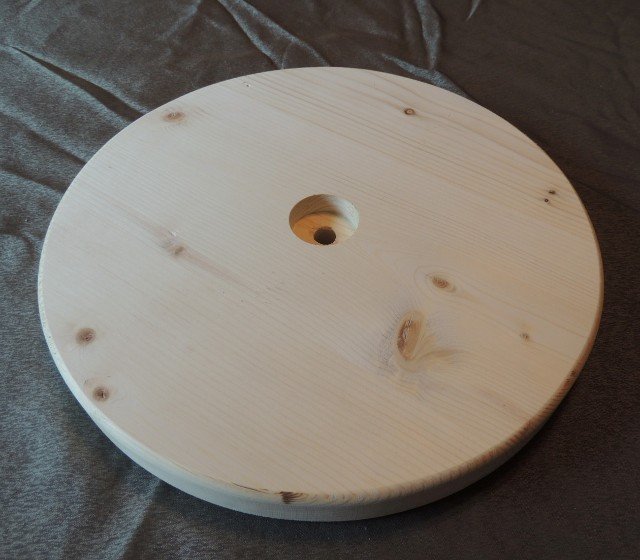 Please feel free to leave any comments. If you would like to contact me directly, please click here to email me.
Please be aware that the carousels are Patent Pending, and the plans are Copyright protected, and illegal to redistribute, copy, or sell.
Please include a contact phone number when you order through PayPal, this is required by Fed-Ex Home Delivery for delivery purposes.
** PLEASE ALLOW 10 - 14 Days to build and ship **

Now available with wheels for mobility -
see below for information
To purchase the Micro 13", or the Micro 13" and wheels - please make your selection from the dropdown menu and click the BuyItNow to complete your purchase.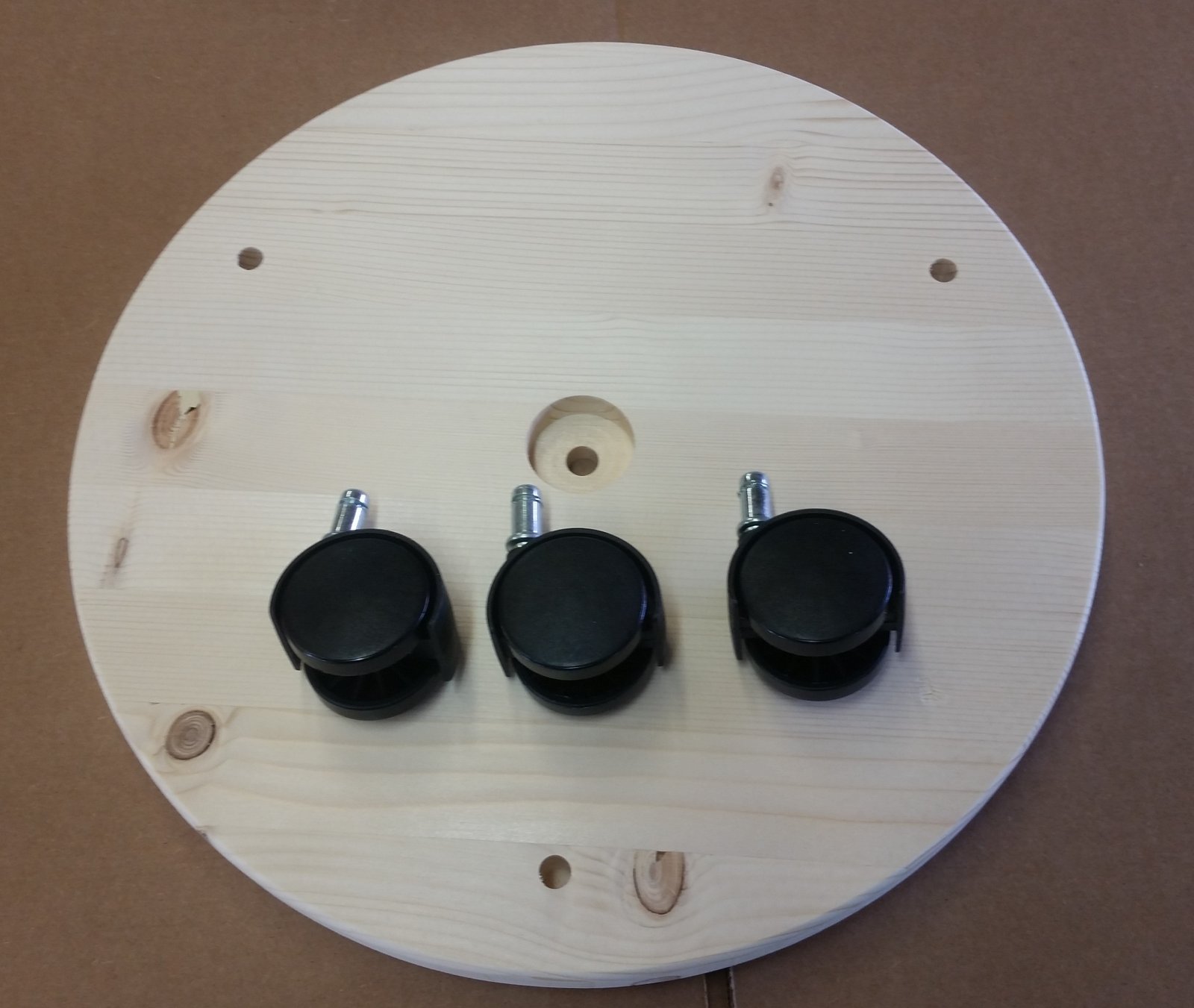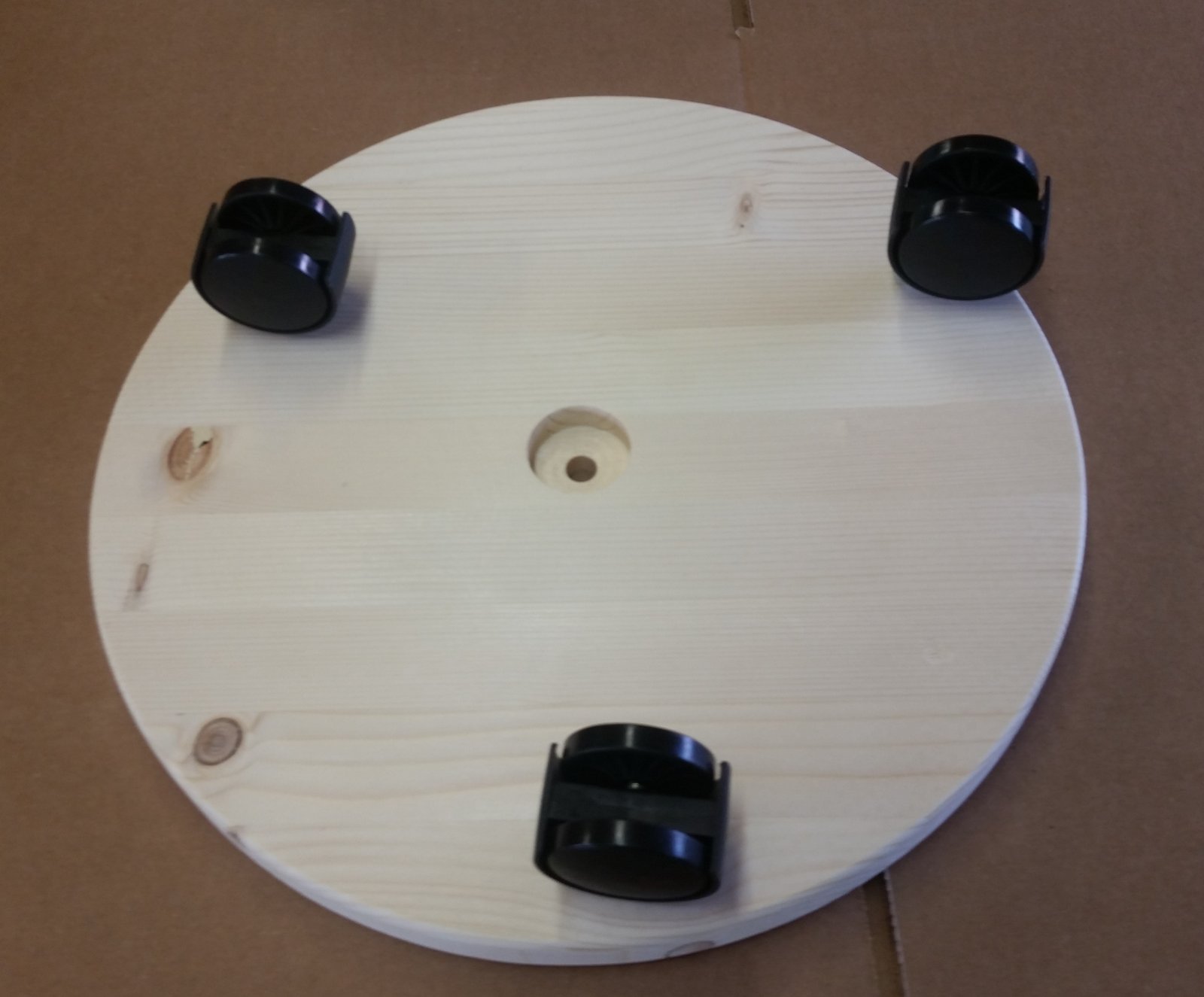 Base shown with optional wheels
** Due to increased surcharge fees by Fed-Ex, I have had to temporarily increase the cost of the carousel. I am hoping that these fees can be removed in the near future.